Facilities





Please enjoy your leisure time to the fullest
within this natural and serene environment. This is a Japanese-modern inn located on a hill in Katsuura, Minamiboso, evoking a tropical resort. Enjoy your free time away from the daily hustle and bustle with a lit-up pool, a garden terrace, and more. Take your time to check in at the lounge while sipping your preferred welcome drink. In the lobby, we have a hanging chair for two. As the entire facility is non-smoking, we kindly ask you to smoke on the garden terrace (smoking area until 22:00).
Guest rooms






A Japanese-modern room where Eastern and
Western elements harmonize Room Types: Special Rooms with Open-Air Baths, Rooms with Semi-Open-Air Baths, Rooms with Cypress Baths, Rooms with Showers. Please choose the room type that suits your preference. All rooms are Japanese-Western style with twin beds. We offer 8 different room types with various themes. (The beds are spacious double size, except for some rooms). On the 1st floor, there is a spacious terrace, and on the 2nd floor, there are 8 types of rooms, including corner rooms that offer views of Katsuura's streets and the horizon. Each room is equipped with a coffee machine and a water server, so you can enjoy drinks at your convenience."
Information for Your Stay
"Check-In: 15:00, Check-Out: 11:00
Arrival: Welcome drink

Child Rates:
Ages 1-3: Facility use fee of 2,200 yen. If bedding is required,


an additional bedding usage fee of 1,650 yen applies.


Ages 4-9: 50% of adult meal charge.
Ages 10-12: 70% of adult meal charge.

Cancellation Policy:
Same day cancellation or no-show: 100%
One day before: 50%
Two days before: 40%
Three days before: 30%
Four days before: 20%
Five days before: 20%

Meals:
Both dinner and breakfast are served in the private "Dining Kura" room for a relaxed
dining experience. Please note that in-room dining is not available.

Yukata (casual cotton kimono) is provided in your room, and female guests can choose a colored yukata in the lobby lounge.
arious amenities are provided in your room, the communal baths, and the private open-air baths.

Our facility offers free Wi-Fi, and you can automatically connect to the internet without entering a password.
If you have any questions, please don't hesitate to ask the front desk.
We highly respect your privacy and will only enter your room for futon laying. Additionally, futons will be picked up after your check-out, allowing you to relax without interruptions."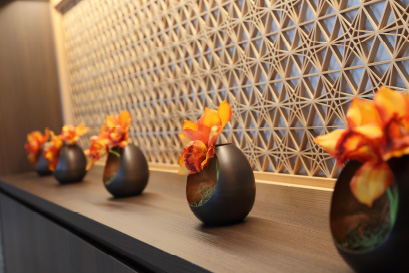 Hot spring





We have two communal baths with open-air baths,
with separate bathing times for men and women
in the morning and evening. In addition to the communal baths,
we also have two private open-air baths available for reservation. "Hot Spring Quality: Metasilicic Acid, Metaboric Acid, Sodium Ion, Hydrogen Carbonate Ion The colorless and transparent hot spring is known for its benefits for beautiful skin, fatigue recovery, and relieving cold sensitivity. The hot spring water in the bath is temperature-controlled to maintain a comfortable bathing temperature, and for hygiene purposes, a circulation filtration system is in place."
Information for the Use of the Communal Bath
Usage Hours /
Same day cancellation or no-show: 100%
Communal Bath 'Tsukinoyu' - Women: 15:00 to 24:00, Men: 6:00 to 10:00
Satonoyu' and 'Tsukinoyu' alternate between men and women's hours

Information for the Use of Private Open-Air Baths

Usage Hours /
Please make a reservation at the time of check-in.
A bath of stars and sky, 45 minutes, ¥2,200 (including tax)
Before bathing, please come to the front desk to collect the key.
We have cold water and various amenities, including ice, available in the resting area, so please feel free to use them. Towels and bath towels are also provided in the resting area for your convenience. Additionally, we offer a variety of amenities for your use.

We offer various amenities including face towels, bath towels, shower caps, toothbrushes, cleansing products, shampoo, conditioner, hair treatment, body soap, hairdryers, combs, hairbands, styling products, T-shaped razors, shaving foam, tissues, cotton swabs, and more."
Cuisine





Please enjoy seasonal dishes made from freshly caught fish and
locally harvested vegetables For the main course of dinner, you can choose the preparation method for the abalone
(varies depending on the plan): Sashimi, Steamed with Sake, or Grilled(A way to cook abalone that seems as if it's dancing).
Please let our staff know your choice upon arrival. If you have any dietary restrictions or specific preferences, kindly inform us by the day before your stay. Please note that ingredients and cooking methods may change based on the availability and the catch of the day.
The dishes shown in the photos are examples. Please enjoy dishes made with various seasonal ingredients.